by Sanaullah Khan (ELP 2016) | Technical Deputy Director, Environmental Protection Agency, Pakistan
The Environmental Protection Agency (EPA), Peshawar, Pakistan has completed a pilot project for an indoor ambient air quality monitoring and control program in the three districts of Khyber Pakhtunkhwa Province, Pakistan (Peshawar, Swat and D. I. Khan). The data was collected from various kitchens, markets, workshops, hotels, Tikka shops, offices, etc. The indoor air pollution is the presence of one or more contaminants indoors that carry a certain degree of human health risk. This was the first project of its kind in the Khyber Pakhtunkhwa Province and no previous study was carried out on this topic. The main goal of the study was to monitor and facilitate a pollution-free indoor environment to the people of Khyber Pakhtunkhwa and to design a control program to reduce risk to human health and environment. The objectives of this project was to monitor indoor ambient air quality and measure various pollutants concentration, to identify the indoor air pollutants their sources and relative role of pollutants and to assess the extent and magnitude of indoor air pollution in urban and rural areas including households, hospitals, industries, hotels, schools, offices and other public places. Also to develop guidelines and control mechanism to combat indoor ambient air pollution, to find a linkage between exposure level to pollutants and its health impacts at specific workplaces and to categorize workplaces on the basis of exposure level and health risk. The various causes of indoor air pollution in these districts are the heating by wood/cow dung, burning stoves, smoking, gas heaters, dust, paints, chemical use in polishing, reduction of space due to enormous growth in population, reduction of grazing land, open spaces, global warming, along with a trend toward "energy efficient" buildings with increased use of urea formaldehyde foam insulation, acrylic carpets and decreased ventilation rates. The guidelines which were adopted during the project implementation were to identify the density of hazardous indoor pollutants, establish a preventive and control mechanism to combat indoor ambient air pollution and to phase out the pollutants on the basis of the precautionary principle, implement indoor ambient air NEQS and further develop the control mechanism and to provide guidelines to the stack holders for proper control. The procurement were NOx, SOx, COx, and H2S measuring meters. 
The data collected were measured up to CO 21.30 µg/m3 No,1070 µg/m3and NOx  1450 µg/m3 in these districts which were almost exceeded the National Environmental Quality Standards which are for CO 10mg/m3, NO 40µg/m3 and NOx 40µg/m3.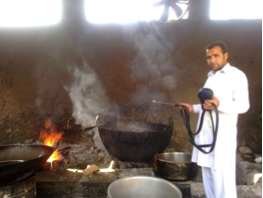 The health effects of indoor air pollution observed responsible for 2.7% of the global burden of disease, acute respiratory infections (ARI) in children (pneumonia), tuberculosis, chronic bronchitis (CB) and chronic obstructive pulmonary disease (COPD), low birth weight and parental mortality, nasopharyngeal cancer, laryngeal cancer, cataract (blindness), allergic reactions, hypersensitivity pneumonitis, humidifier fever and mycotoxins (fungal disease). The project proposed the key requirements for rural and urban areas of these districts such as indoor ambient air quality monitoring and development of NEQS with the assistance of World Health Organization, Awareness, Assessment, Control and Training.