by Kamal Devkota (ELP 2016) | Director, Southasia Institute of Advanced Studies, Nepal
Nepal was seriously affected by the devastating earthquakes on April 25 (7.8 on Richter scale) and May 12 (7.3 on Richter scale) 2015 followed by number of aftershocks. Over 500,000 homes were destroyed, 250,000 damaged, nearly 9000 people killed, 21000 injured, and 3 million affected. The economic losses could be as much as $10 billion, according to an estimate from US Geological Survey. The cost of rebuilding is about $5 billion. A major impact has been the movement of ground, and the land surface is reported to have shifted both horizontally and vertically by +- 1.5 meters. An interesting phenomenon related to this is the underground land deformation that has affected the groundwater flow movement. Several springs and streams that used to supply water for drinking and other livelihood activities to the nearby communities are either significantly decreased or totally dried up.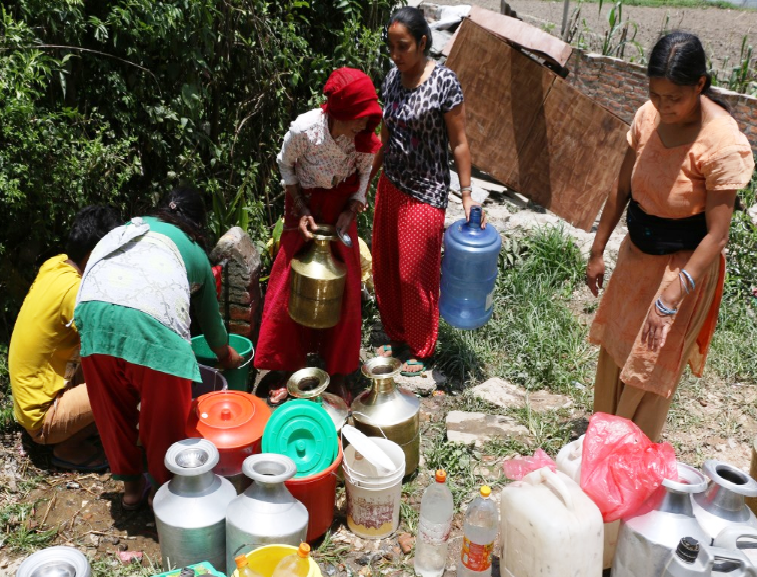 The supply and management of drinking water to small towns of the Himalayas has become a critical challenge. These small towns rely on springs, streams, lakes and rivers for drinking water with supply systems managed and governed through a variety of approaches and institutional arrangements. In Nepal, government and communities both share the responsibility for the management of water, while private sector management practices and interventions are increasing, as are donor supported projects, especially in the case of small towns.
Being a researcher on water security in the region, I along with my colleagues at my organization decided to pursue this issue as a most important area to explore and make some contribution. Communities from our ongoing research sites have been facing the water related conflicts and are further affected by the extreme water crisis after the earthquake. We hosted consultation meetings and discussions among the stakeholders at local to national level and conducted about 200 household surveys on how communities are affected by the water crisis and what are their coping strategies. The diverse voices of communities and their fragmented approaches to cope with the situation further motivated us to work in this burning environmental issue. 
I found the Environmental Leadership Program at University of California, Berkeley an important platform to learn on multiple environmental issues and sharpen my leadership capacities so as to work on the water problem in Nepal's earthquake affected region. I am thankful to UC Berkeley and WWF's Environment for Nature (EFN) program for their financial contribution for my participation in this outstanding course. The highly inspiring lectures by the world class faculties and outstanding feedbacks by my colleagues from all around the world has equipped me with the knowledge, techniques and courage to work in this field after I will be back to my country.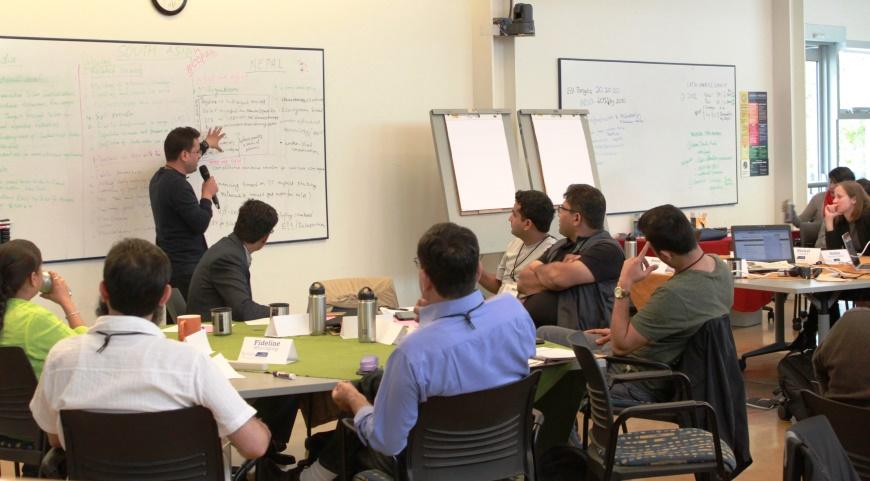 The practical tools on leadership, facilitation, negotiation and communication that we learned during the sessions were really appreciable. I had change to facilitate the multi stakeholder meeting during a demonstration session and this is what I have to do immediately after I go back to my country. I practically learned the basic characteristics of an ideal environmental leader (self-aware, understand the context, promote constructive relations, encouraging and appreciate others views, compelling vision, striving inclusion etc) from this session. Among other sessions, being a researcher on water security; I further enjoyed the specific sessions on water. Other theoretical sessions and practical field trip complemented each other in this leadership program. However, some of the environmental cases from US and California used during some sessions seems less relevant to us since we have different geographical and socio economic context.
Two specific action interventions that I am planning after the course are (i) prepare a robust and comprehensive micro level watershed management plan as a model that can be replicated in other similar context and (ii) contribution to the preparation of climate adaptive and equitable water management practices and strategies in the cities in Nepal. For these both activities – partnership building, negotiation, deliberative dialogue, and well visioning are crucial. I hope, I can be able to apply the insights that I gained from this leadership course on making things happen after I go back to my country.