Chantalle Samuels (ELP 2019) | Chief Executive Officer, Coastal Zone Management Authority and Institute, Belize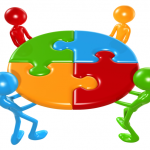 Conceptual Image of Relationship between Actors and Interests in an ICZM Model
After eighteen long years, Belize's ICZM Plan, described as "visionary" by UNESCO, would be eventually adopted by Belize's Government in August 2016'.  The Plan is approaching its 3rd year of implementation, which is riddled with challenges both anticipated and unforeseen.  However, as legislation mandates a review of the Plan every four years, there is still hope and opportunity for adaptive management.  Belize is on the frontier of a new era where ICZM will hopefully soon be the norm to achieve a sustainable future where healthy ecosystems will support, and 
Belize is a gem, with its greatest asset arguably being its coastal zone.  It is home to the second largest unbroken barrier reef system in the world, which has earned the distinction as a UNESCO World Heritage Site in 1996.  The coastal zone possesses numerous coastal lagoons, three atolls, and extensive seagrass meadows and mangrove forests. The coastal zone of Belize supports innumerable ecological processes and diverse marine life, including habitat for endangered species such as the Antillean manatee and the hawksbill turtle to name a few.
Belizeans also derive significant benefits from the coastal zone, with an estimated 40% of the population whose livelihoods and home depend on a healthy and functional ecosystem.  Every year, well over 1 million tourists make the sojourn to Belize to pursue world renowned snorkeling, diving, sport fishing, cultural experiences, while also contribute to this country's economic development.  So how might a country like Belize leverage its natural capital for economic prosperity but also safeguard its natural assets from consumptive activities that paradoxically threaten the very ecosystems that underpin the economy?
Many countries across the globe have long recognized the deficiencies and disadvantages of utilizing sectoral governance frameworks for the sustainable use and management of coastal and marine resources.  Belizeans made this point resoundingly clear at a historic 1989 Meeting
of the Mind fittingly convened on Belize's largest island municipality, Ambergris Caye.  The actors and interests at the meeting were diverse, ranging from local to international, scientists to resource managers, and coastal communities to private sector representatives.  The outcome of this 1989 meeting would be the recommendation for a new approach-Integrated Coastal Zone Management (ICZM).  This approach provided the promise of coordinating policy action and decision-making to resolve conflicts, and ultimately maintain ecosystem health and improve quality of life.  However, it took Belize almost two decades for the its first ICZM Plan to be formally adopted by its government. Why was this the case?
Nine years after the historic meeting of the minds in 1989, the government of Belize took several important steps towards strengthening the governance and management of coastal and marine resources.  First, Belize established the legal and institutional framework for ICZM by ratifying the Coastal Zone Management Act, deemed by many to this day as a visionary legislation. An important provision of the Act is the preparation of a national ICZM Plan that must use an integrated planning approach to address the growing needs and interests of multiple sectors and diverse beneficiaries, while also safeguarding natural capital and the flow of ecosystem services and benefits to people. 
Second, the Government endorsed a National ICZM Strategy, which was an important pre-requisite for what would later become the national ICZM Plan. Belize's ICZM Plan would later be under development during the period 2003-2013, although not much happened from 2003-2008 as CZMAI was forced into a transition period due to lack of funding and human capacity.  With a change in government administration in 2008, and technical support of the US-based Natural Capital Project, the planning process was reinvigorated and was driven by a strong science-policy process.  There was also extensive stakeholder engagement to ensure that local knowledge, public commentary and stakeholders' visions for the future were incorporated into the final ICZM Plan for Belize by mid 2015. 
Satisfied that all legal and administrative requirements were adequately met, CZMAI's Board of Directors passed a resolution in October 2015 for the Plan to be forwarded to the national legislature for endorsement.  Then, the unexpected happened.  National elections were called in November 2015, which effectively put the formal presentation of the Plan to government on hold for an indefinite period of time.  This was a true test of patience and many were worried about the dramatic implications for the approval process.  For instance, the elections had implications for CZMAI's Board of Directors, which had to be dissolved before the elections, and reconstituted under a newly realigned Ministry. 
So what were the three most important factors that helped Belize to regain momentum and tilt the pendulum in favor of approval of the country's first ICZM Plan?
Engaging the right people at the right time with the right communication tools
Keeping the end goal in sight, especially when dealing with unpredictable policy processes that are not time-bound with constantly changing actor
High endurance, patience and resiliency are necessary character traits for  results-driven environmental leadership
After eighteen long years, Belize's ICZM Plan, described as "visionary" by UNESCO, would be eventually adopted by Belize's Government in August 2016'.  The Plan is approaching its 3rd year of implementation, which is riddled with challenges both anticipated and unforeseen.  However, as legislation mandates a review of the Plan every four years, there is still hope and opportunity for adaptive management.  Belize is on the frontier of a new era where ICZM will hopefully soon be the norm to achieve a sustainable future where healthy ecosystems will support, and be supported by, thriving communities and a vibrant economy.