Use in "featured" displays?:
Biography:
Jonathan B. Jarvis is the executive director of UC Berkeley's Institute for Parks, People, and Diversity. He served as the 18th Director of the United States National Park Service from 2009 until 2017. A career civil servant, Jarvis had been with the service for over 30 years, including tenures as the superintendent of Mount Rainier National Park, Craters of the Moon National Monument and Preserve and Wrangell-St. Elias National Park & Preserve.

Jarvis is a co-author of the book The Future of Conservation in America: A Chart for Rough Water (University of Chicago Press, 2018).
Photo: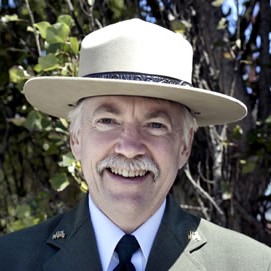 Primary title | Affiliation:
United States National Park Service
Secondary title | Affiliation:
UC Berkeley's Institute for Parks, People, and Diversity