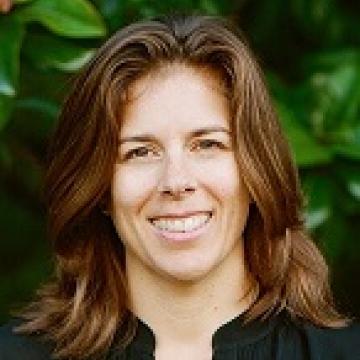 As Founder and Principal of Blue Earth Consultants, Dr. Tegan Hoffmann leads the team of professionals and oversees all client projects. With more than fifteen years of professional experience, she works with communities, businesses, non-governmental organizations, foundations, academic institutions, and governments to provide the best ideas and consulting services that help improve resource management and sustainable practices around the world.
Dr. Hoffmann's strengths lie in her ability to draw connections, create synergies, and conceive cutting-edge solutions. She performs all project and operational oversight and specializes in the services of the firm – strategic and business planning; governance, institutional arrangements, and organizational design; monitoring, evaluation, and learning; funding and long-term financing; meeting design, stakeholder engagement, and technical facilitation; strategic communications; and, next/best practices, with expertise in terrestrial and marine sustainable resource management and conservation. With a portfolio of more than 125 completed projects, she has provided consulting and advisory services for numerous clients across sectors. Example clients include David and Lucile Packard Foundation, Gordon and Betty Moore Foundation, Walton Family Foundation, Environmental Defense Fund, The Nature Conservancy, Wildlife Conservation Society, Monterey Bay Aquarium, Ecotrust, Global Environment Fund, Mexican Fund for Nature Conservation (FMCN), Rare, the Center for Ocean Solutions at Stanford University, Scripps Institute of Oceanography, State of California, State of Oregon, UNESCO, NOAA, and many others. Dr. Hoffmann has experience designing solutions in the U.S. and internationally, with extensive experience in the U.S. West and East Coasts, Southeast Asia, the Pacific, Mexico, and the Mesoamerican Reef/Wider Caribbean region.
Dr. Hoffmann holds a Masters and Ph.D. in Geography and a Bachelor of Science in Conservation Resource Studies from the University of California Berkeley. She received numerous awards and research grants for her work from organizations including the U.S. Environmental Protection Agency's STAR Fellowship, NOAA, National Fish and Wildlife Foundation, University California's Pacific Rim Research Program, the U.S. Indonesia Society, and others.
Prior to consulting, Dr. Hoffmann was the Director of Programs for the Coral Reef Alliance, where she led a team of five, managed, and evaluated all of the organization's coral reef conservation and education programs.
Dr. Hoffmann is a founding member of the UC Berkeley Environmental Alumni Network, a board member of U.C. Berkeley's Rausser College of Natural Resources Alumni Board and Coastal Quest, and a member of the American Association for the Advancement of Science, Society of Woman Geographers, and International Coral Reef Society. Dr. Hoffmann has published on a wide range of related topics.