Use in "featured" displays?:
Biography:
Angela Gallegos-Castillo was raised in the San Francisco Bay Area and she received her PhD from UC Berkeley in Ethnic Studies with an emphasis in Feminist Studies, Youth Development and Race Relations. She is a trained as a qualitative researcher. She has over 25 years working in social justice efforts in and with low-income and communities of color and building capacity in the non-profits that serve them. She is seasoned at working with Spanish speaking immigrant communities.
Dr. Gallegos-Castillo is a lecturer, consultant and trainer and her vast experience spans the areas of leadership development, community engagement, policy advocacy, prevention and public health, organizational development, program development and evaluation.
Dr. Gallegos- Castillo has worked in a variety of settings, including local government public/private partnerships and community-wide initiatives. She served as Assistant to the City Manager in the City of Berkeley where she worked as Community Liaison for South and West Berkeley and served as the Children and Youth Services City Coordinator. She has worked on multi-sector community wide initiatives that have focused on education, community health and violence prevention in urban contexts. Currently she is community builder/planner for a San Francisco Initiative aimed at improving the health, safety and economic outcomes of Latin@ youth.
As an educator, she is passionate about supporting efforts to make sustainable change in the world, however big or small. She is bilingual (Spanish/English), Bicultural (Mexican/U.S.), lives in Berkeley, California with her husband and her two children. She is a daughter of Mexican immigrant parents, her role models in teaching her the importance of community building.
Photo: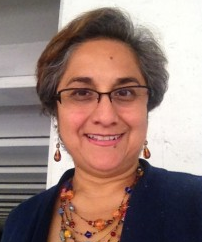 Primary title | Affiliation:
‎Instituto Familiar de la Raza
(DEPRECATED) Program | Role: