By Binta Iliyasu (ELP 2015) | Principal Research Officer, Nigerian Institute for Trypanosomiasis Research, Nigeria
I was invited to the Global Food Summit as a Laureate of the Berkeley Beahrs Environmental Leadership Program (ELP) to share my thoughts on how Africa could achieve Food and Nutrition Security by "Breaking Gender Barrier to Empower Young Women Educationally and Agriculturally." The invitation as a special guest and speaker came as a great opportunity for me to share my passion to fight against hunger and poverty through research and advocating for the empowerment of girls and women, and to bring gender perspectives into the summit discourse while considering the serious issues of poverty and food insecurity in Africa in the face of massive population explosion, pests and disease infestations, climate change and political instability in the region. 
My trip to the summit in Berlin began incidentally on my birthday, 5th November, as the organizers of the Summit graciously accommodated my travel schedule through Bremen to meet with my research team at the Center for Biomolecular Interactions, University of Bremen (CBIB). I therefore celebrated my birthday in the air with smiles from the cabin crews, a small plate of ice cream and a "Happy Birthday'' from the Turkish Airline! How food can be used to initiate a good relationship and to share love!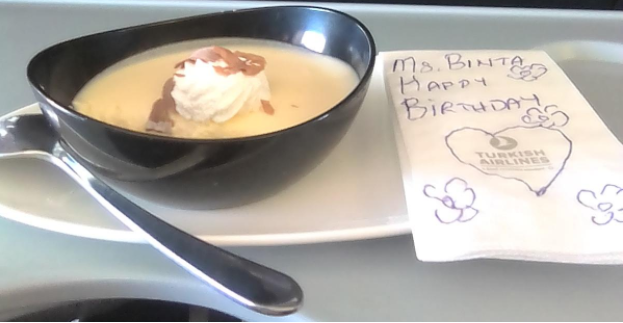 Photo of meal served on the Turkish Airline with a birthday greeting specially for me
The weather on arrival at Bremen was quite harsh for me--coming from dry summer into wet autumn! However, I was prepared with warm clothing.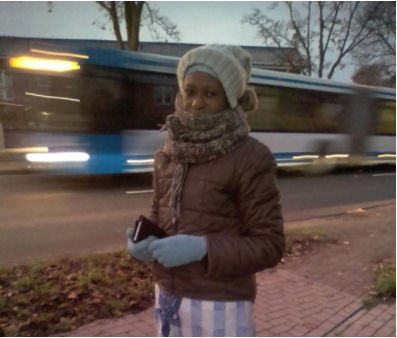 Photo of me dressed for the cold winter in Bremen
Photo of me dressed in winter cap, jacket and gloves to keep warm in the wintery weather in Bremen, Germany
The opportunity to meet with my research team was a moment of re-strategizing on the fight against Sammore – the African Animal Trypanosomiasis and developments of more networks. In addition, I was able to develop and operate my website on a new platform--'the Nigerian Women in STEM' (
www.nigerianwomeninstem.wordpress.com
), print my business cards, cages, and reagents/consumables etc for research back in Africa. Indeed, a great, wonderful and most rewarding opportunity!
Group photo with the African Trypanosomiasis research team at Bremen
On arrival at Berlin for the Global Food Summit, I was warmly welcomed and received by the daughter of Stephan Becker-Sonnenschein, Sarah, along with my excess luggage! I was impressed by the warm and hearty welcome of the team of the organizers at the beautifully blue Raddisson Blue Hotel, Berlin, a unique hotel with a huge indoor aquarium!
Sarah Becker-Sonnenschein and me in Berlin
The Summit was sparked by David Zilberman through an opening charge on ''Technology, Policy and Ethics'' as drivers of change in food. It was held at the center of Berlin at the
Radisson Blu Hotel Berlin
. The meeting brought together leading scientists and experts in agricultural research, biotechnological innovation and policy makers to Berlin, the capital city of Germany for a discourse on Food for a Transforming Society. The summit was jointly organized and sponsored by the International and Executive Programs (IEP) of the University of California, Berkeley and the Wageninen University, Germany among others. As a collaborative initiative, the summit was set to address the global problems of food insecurity, and the way forward in terms of technological and policy approaches to address them in order to meet the increasing demand of food to feed the world growing population of 9 billion by 2050.
Photo of David Zilberman (left), Justus Wesseler (right), and me in the middle
Presentations were followed by panel discussions between speakers and participants at the summit centered on different technologies and approaches to enhance nutritious food production that meet social acceptability and safety standards. Various presentations were made on global efforts to address food insecurity issues and the progresses achieved so far using science as tool for technological innovation to improve food quality and quantity in an environmentally friendly manner.
Panel discussions made up of the following: from left to right--Samuel Sternberg, Kostas G. Stamoulis, Annette Weisbach (Moderator), Binta Iliyasu, and Mahmoud El-Solh
Food security as a phenomenon relating to individuals exists when all people, at all times, have physical, social and economic access to sufficient, safe and nutritious food which meets their dietary needs and food preferences for an active and healthy life. This is complex and multifaceted; greatly impacted by the current challenges of climate change, population growth and shrinking natural resources. As the developed world talks about Food evolution and food options to feed their growing population, Africa is still struggling with the issues of gender inequality, rural urban migration, and political instability in the face of poverty, food insecurity to mention but a few.

Through the summit, I have made friends, expanded my networks, gained knowledge and developed linkage some linkages. Notably among this is the new door of collaboration with a Group working on CRISPR- gene Drive/gene editing technology. This technology can be used to modify an organism's genome in favor or against a desired/undesired trait through insertion or elimination/deletion of a trait.

Biotechnological innovation is urgently needed to unlock Africa's agricultural potential and the future of agriculture is ensured by empowering women and girls. This has a positive multiplier effect because it has been shown within the African context that agricultural transformation and women's empowerment are inextricably linked. The agricultural sector in Africa is the largest employer of women, hence the need to break the gender barrier in order to achieve food security in Africa.
In the special dinner at the German Parliament
It is very glaring that global partnerships/cooperation and policy change is needed to face the current food security issues and enhance the sustainability of agriculture and adaptation to climate change throughout the world. The time to intensify these efforts is now! 
At an informal get-together and farewell dinner sponsored by Jingang Shi. From left to right: Samuel Sternberg, Isabella Pfaff, Stephan Becker-Sonnenschein, Jingang Shi, David Zilberman, Justus Wesseler, Boris Kochan and Binta Iliyasu