By Huyen Thi Thanh Do (ELP 2014) | Founder & Executive Director, GAIA Nature Conservation, Vietnam
The King of the Birds, Mr. Truong Cam from Bach Ma National Park, and twenty-four other environmental educators in the central of Vietnam took part in the five-day international quality training course on environmental education at Bach Ma National Park (NP). This unique course was designed and delivered by GAIA Nature Conservation; University of California, Berkeley, USA; and Bach Ma NP. Organised from 18 to 22 Sept 2017, this training course aimed to raise capacity of environmental educators on educating teachers and students, tourists, local communities, leaders and public in general on nature conservation. The course provided a great forum for sharing environmental education (EE) experiences amongst National Parks (NP) and Protected Areas (PAs). In addition, the training course provided financial support to some participants to implement their excellent EE initiatives at their NPs and PAs. The training course is a part of the project funded by the Buck Kingman Initiative through the Beahrs Environmental Leadership Program at UC Berkeley.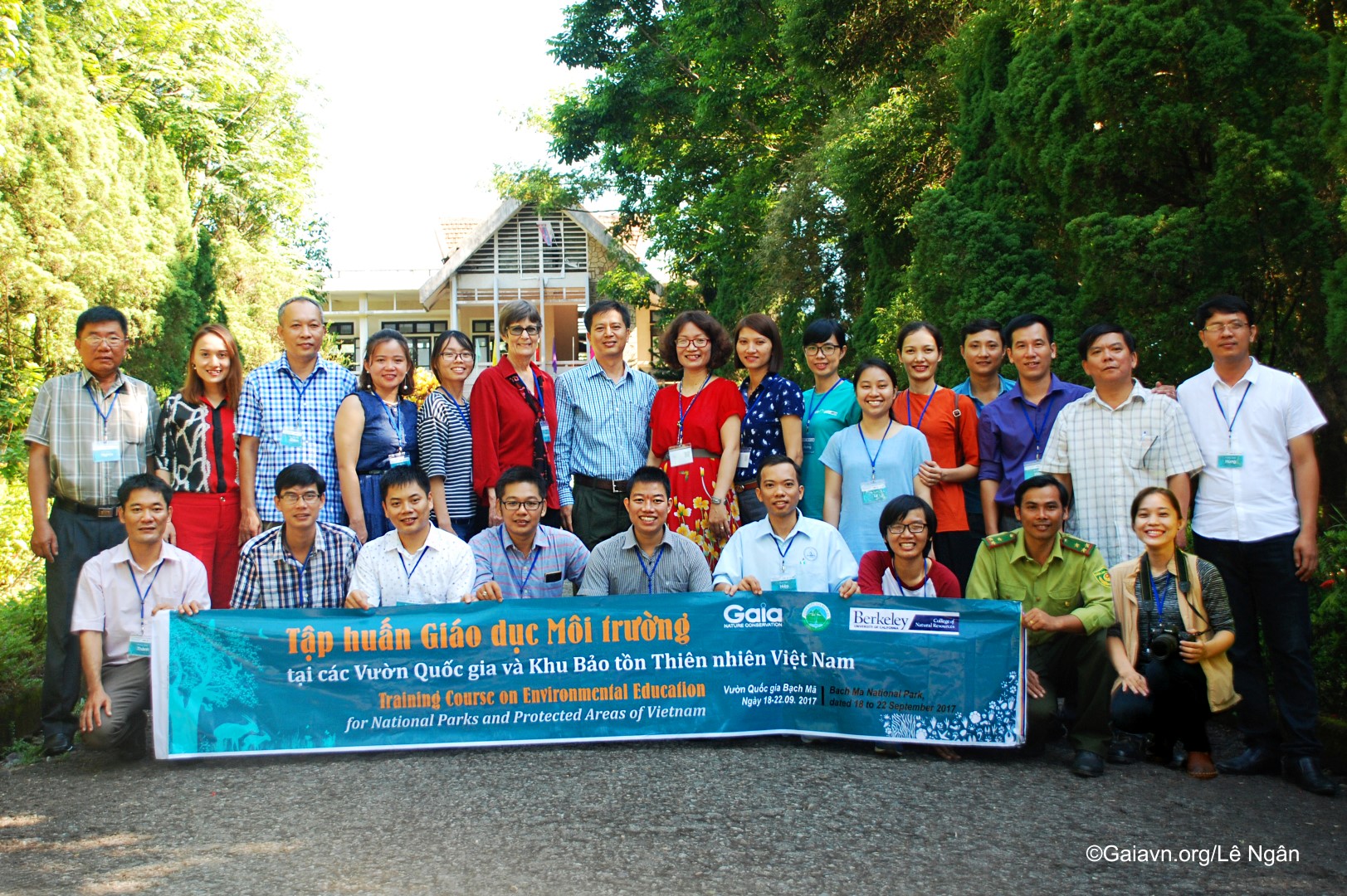 The participants of the course came from 20 NPs, PAs and local NGOs in central Vietnam. All of them had at least three years of experience on EE. Some of them held high position in their NPs or PAs. 
The training programme was specially designed to meet the needs of the participants and thus helped them to be more effective coming back to their organisations as environmental educators. All activities were conducted in a relaxed atmosphere that encouraged creativity, sharing, and engagement of all participants. At the training course, the participants not only reviewed their EE knowledge but also shared their experiences. Field trips were also organized for participants to deepen their knowledge and experience through attending EE activities of Bach Ma NP, including a communication event for local people, a regular meeting of the Junior Ranger Club, and a nature interpretation tour. One highlight of the field trips was the experience sharing of the King of the Birds on how he uses his talent to educate tourists on bird protection. 
The training course was delivered by MSc. Huyen Thi Thanh Do,  Environmental Educator Expert, Founder and Executive Director of GAIA Nature Conservation; and PhD. Susan Lynn Carpenter, Lecturer at the University of California, Berkeley, USA. The trainers had rich experiences in training on EE, leadership, and environment mediation. This training course was developed based on the success of the first similar training course conducted by Wildlife At Risk at Dong Nai Culture and Nature Reserve by the two trainers. 
"Environmental Education is one important function of Bach Ma NP as well as other NP and PA in Vietnam. This training course is a rare and wonderful experience for NPs and Pas to share and connect to each other, for better education activities in the future," shared Mr. Keo Van Huynh, Director of Bach Ma NP.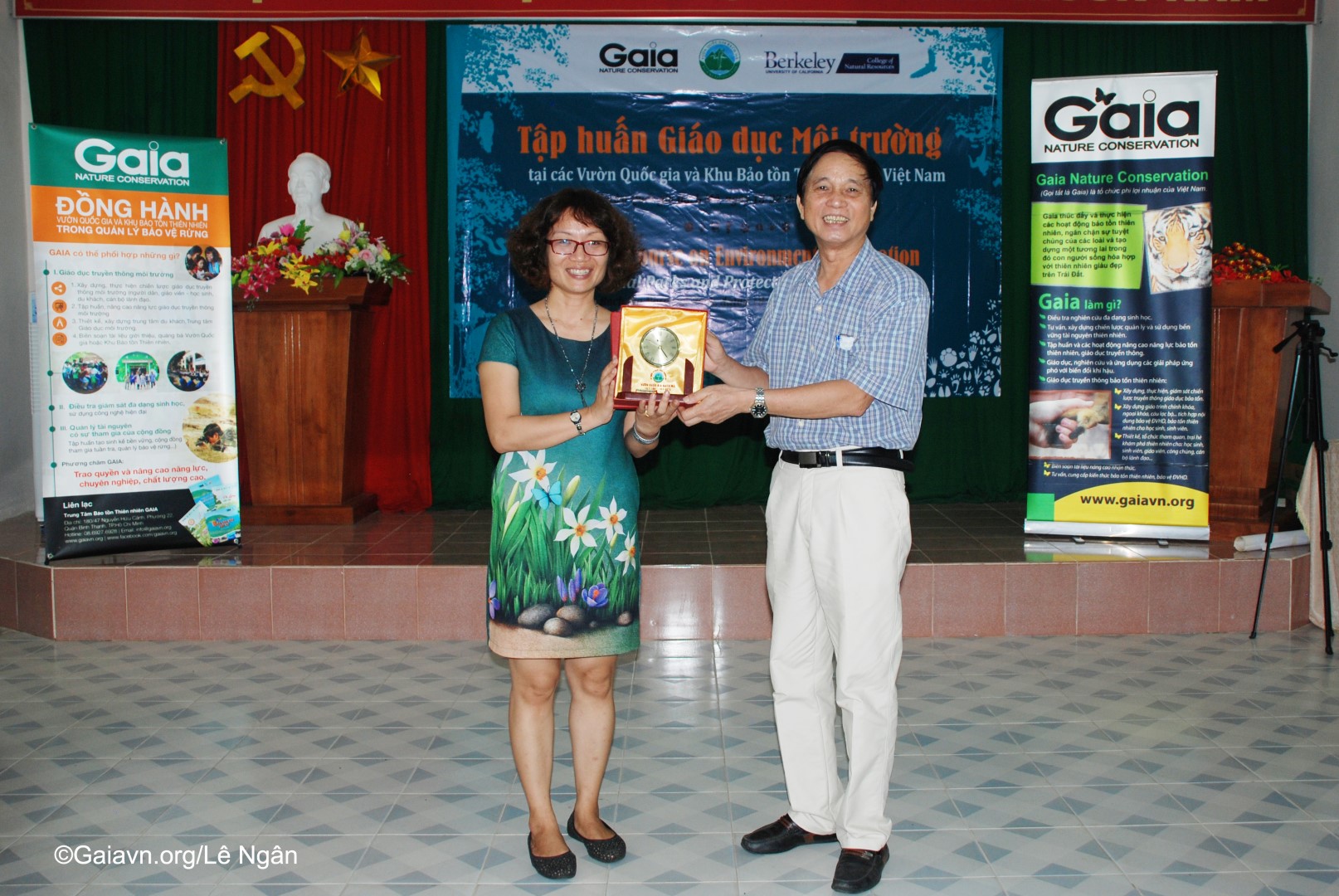 According to Ms. Huyen Thi Thanh Do, GAIA's Founder & Executive Director, president of the Vietnam Environmental Education Network: "Environmental Education plays an essential role in creating a future generation that live in harmony with nature. However, it is not paying enough attention, compare to other conservation solutions. The good sign is that recently, EE have been conducted in most NPs and PAs in Vietnam. Though this course, we helped participants to become more confident and more determent to work as an environmental educator, and thus be able to create more effective EE programmes for different target groups.
"I learnt so much from this training course, not only from the trainers but other participants. I learnt how to develop and organize an effective environmental education programme. I am now confident to organize different environmental education programmes to different stakeholders in my national park," shared Mr. Thanh Cong Hoang, Head of Environmental Education Group, Nui Chua National Park, a participant of the training course.
After the training course, two best EE proposals will be funded to implement from Jan to May 2018. And all participants will keep sharing their experience in the Vietnam Environmental Education Network. They will also receive continuous support from GAIA for their EE activities. GAIA is now seeking more support to organize similar training courses for other NPs and PAs in Vietnam.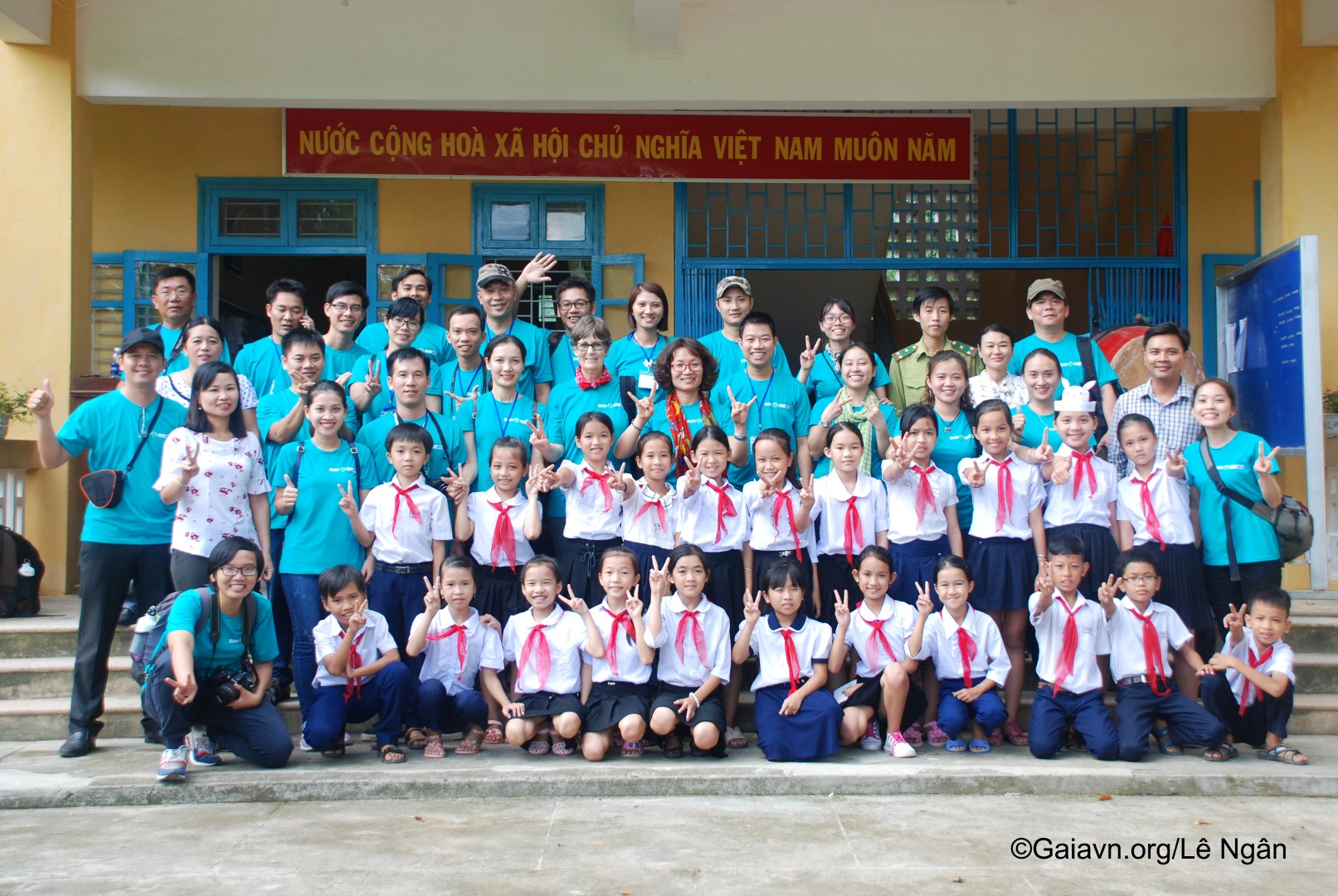 A group photo with the Junior Ranger of the Club