by Alexander Iscenco (ELP 2013) | MEGA Co-founder; Research and Cooperation Coordinator, Moldovan Environmental Governance Academy, Moldova
MEGA (the complete name: Moldovan Environmental Governance Academy) is the social entrepreneurial organization established by the Beahrs ELP alumnus from Moldova, Alexandr Iscenco, in 2013, after his participation in the program. It focuses on delivering services of gamification, game development, gamified trainings, and e-learning with environmental/social value. The purpose of MEGA is to create a sustainable world not on the basis of negative emotions, but on the basis of fun and optimism about the future.
In 2016, MEGA celebrated 3 years of impact and provided both local and global communities with a number of environmental opportunities, such as Hai Moldova 2016, the first Eco-hackathon in Moldova, and the first gamified training program on ecosystem services in Central Asia.


Hai Moldova 2016 united Moldovans for a Clean City
Hai Moldova is part of Let's Do It World movement, which has the goal to engage volunteers in cleaning countries in a single day. There were two editions of Hai Moldova in 2011 and 2012. In 2016 MEGA revived the campaign in Chisinau, the capital of Moldova. On the 24th of September, 3,522 volunteers cleaned 9 parks in the city. They collected 8,068 bags of garbage, including over 2,500 of them with recyclable waste. In 2017 MEGA aims to capitalize on these results and upscale Hai Moldova to the country-wide level.


The First Eco-Hackathon brought New Solutions to Environmental Issues in Moldova
In November-December 2016 MEGA with its partners decided to create a new community in the form of Eco-hackathon for civil activists, landscape designers, environmentalists, and other professionals who want to introduce "green" infrastructure in the Moldovan capital city, conserve biodiversity in urban ecosystems, and create gamified educational campaigns on these topics. Thus, the theme of Eco-hackathon was "From Grey to Green".
The Eco-Hackathon consisted of 2 weeks: one of them contained daily workshops on 5 different environmental topics, while the other week was dedicated to the work itself upon the ideas/projects. There were 17 projects submitted, and 4 of them got awarded.
One of the winning ideas, Wiki Loves Earth, aims to promote natural monuments through an interesting photo contest. Then, Hai sa reciclam (Let's Recycle) is a fun and innovative contest between lyceums from the entire country promoting the separate collection and recycling of waste. Young architects' project Less Is More brings new life and urban innovation to local parks. The team identified the needs of the local community and developed a plan to improve the green spaces in Chisinau. Last but not least, Save the Christmas Tree is an idea dedicated to the prevention of cutting the Christmas trees and decoration of the festive city in a more creative, innovative, and environmentally caring way. It will be done as a competition of designers, architects, and engineers.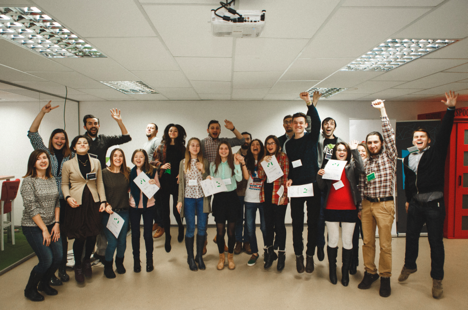 The First International Gamified Training on Ecosystem Services in Central Asia
In November 2016, besides organizing the Eco-hackathon, the MEGA Team travelled to Bishkek, Kyrgyzstan, to deliver a training program "Integrating Ecosystem Services into Development Planning". This was the first gamified training service offered to the international organization GIZ and its project ValuES.
The training program was delivered as a storyline of living in a fictitious country of Zentralistan, the setting of which was adapted to key characteristics of the countries of Central Asia. The delivery of content was based on interactive and experiential methods of learning. Instead of lectures and presentations, the participants were invited to work on the Zentralistan case and thus learn from experiments, games, and from each other.
The main result of the training program is 16 participants well informed about the concept of ecosystem services, prepared to assess and include them into their university courses and daily work.
All these environmental opportunities and their implications for achieving the MEGA vision of creating a sustainable world will be continued and upscaled in 2017. And we are open for cooperation with other ELP alumni and their organizations in making such an ambitious vision come true. If you are interested, please write us to hello@megageneration.com, and let's start the MEGA great year 2017 together!​