Felicia Lasmana (ELP 2021) | Senior Quality Officer and Project Manager, HCV Resource Network, Indonesia
In March 2021, I was back in my hometown so I could take care of my mother. I have been working remotely for more than three years, so there are not many differences in my working habits. But what I truly miss is the fact that there is no more travel time for work or pleasure. Especially since there were no opportunities to get the vaccine for people younger than 60. Back then and even currently, partial lockdown was in effect everywhere within and in many places outside the country.
Apart from working 9 to 5 remotely with colleagues and having various calls in different time zones, I managed and contributed to several projects globally through virtual sessions. One event was a virtual workshop series with stakeholders from local governments and Environmental and Social NGOs on the HCV landscape screening in Kapuas Hulu, Indonesia, discussing land use planning and providing the basis for implementing sustainability commitments. 
Globally, landscapes harbor important natural and social values such as intact forests, rare and endemic species, habitats, vital ecosystem services, and cultural sites. The High Conservation Value (HCV) Approach helps identify and protect these values in places where there is a rapid expansion of agriculture, forestry, and aquaculture.
Globally, interest in the High Conservation Value (HCV) approach has been rising in landscape and jurisdictional settings. The HCV Screening in Kapuas Hulu is one of several pilot projects where the main focus is HCV application in landscape or jurisdictional settings. I was also involved in a training session on an introduction to the HCV approach to NGOs and Government representatives of Bhutan. The main goal of the remote training is scaling up the HCV Approach to the national level and adapting HCV National Interpretation in the Bhutan context.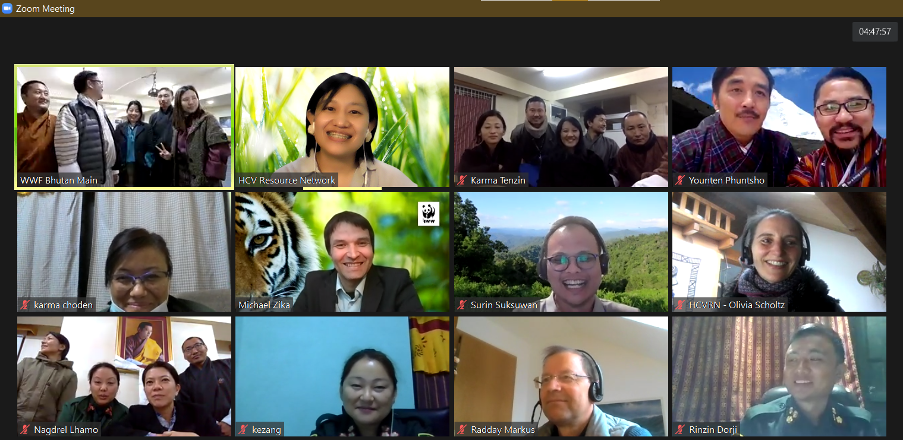 Participants of HCV Training in Bhutan. This Photo is owned by HCV Network and was taken by Felicia Lasmana.
Both the Kapuas Hulu and Bhutan remote sessions were interesting, yet challenging because of delivery, technical issues, engagement, and time frame. They were very satisfying from a carbon footprint perspective as there was no traveling by trainers or experts, which mainly came from Europe to Indonesia and Bhutan.
Before the pandemic, there was a demand to provide HCV training for various audiences such as companies, HCV practitioners, and HCV Network Users globally. In January 2021, The HCV Network launched its digital learning platform, namely the HCV Network Learning Platform with HCV Network Users as the main target audience. I have been appointed to lead the learning workstream and manage the learning platform. 
Indeed, as conservation biologists turned into sustainability practitioners, delivering online training can have a huge learning curve and be a challenging task. Within one year of the pandemic, I learned several new skills that include book writing, documentary creation, video animation, managing virtual meetings, and developing online training. I also utilize my facilitating skills for various meetings, both internal and outside my organization.
The pandemic was a blessing in disguise since I could join the Beahrs Environmental Leadership Program (Beahrs ELP), delivered by the University of California, Berkeley. It's the first time the Beahrs ELP team has delivered its program online. Although, I still expect that I will be able to visit Berkeley in person next year or in the following years.
Another silver lining is that since I did not have to travel to Berkeley, I have more time to learn and improve my leadership skills and meet new people than is possible in person currently. Joining the Beahrs ELP cohort is one of the highlights of my year, with their growing alumni network of more than 702 members from over 114 countries, including Indonesia, my home country. 
With 20 years of experience, the Beahrs ELP offers a series of interdisciplinary workshops with a focus on innovation and collaboration. This is vital for any conservation professional and environmental leader in this fast-paced work environment where we are continuously challenged to meet goals and seek solutions to address the world's pressing problems such as climate change and biodiversity loss.  
After the Beahrs ELP, I will continue my work at the HCV Network with more confidence in applying this knowledge to the HCV Network Learning workstream and related environmental and sustainability projects. As a lifelong learner, I am not only learning from the Beahrs ELP instructors but also my cohort. The ELP participants come from various backgrounds and specialties, from Ph.D. students, start-up entrepreneurs, early career professionals, senior-level practitioners with more than 15 years of experience to company staff, government officials, think tank researchers, and NGO activists. Within my cohort and Beahrs ELP Project, I can share and learn from others. We are currently working on using awareness to improve environmental attitudes and showcase the importance of environmental leaders. My group's project is titled "Heroines of the Earth: Women Who Care for the Planet '' with team members from Angola, Palestine, Brazil, Mauritius, and Ukraine. 
Another thing I learned throughout the sessions is "good decision making relies on good science". As environmental leaders, we are an active community with a strong focus on global environmental issues. The Beahrs ELP is a tremendously important program for creating a space for global environmental leaders to exchange new ideas and nourish friendship and mentorship opportunities with close coordination from UC Berkeley faculty and industry experts. If you have a chance to participate in the Beahrs ELP, I fully recommend it and suggest that you apply in advance and give a heads up to your organization so they can give you ample time to provide sponsorship or a reference letter.