Anastasia Zhdanovich (ELP 2019) | Managing Director, Belarusian Environmental Movement, Belarus
"The level of commitment to an idea is determined by the price you are willing to pay." 
These are the words from the popular HBO series "Chernobyl", a documentary about ​the most disastrous nuclear power plant accident in history. I live in Minsk, the capital of Belarus, which is located 400km from Pripyat city, where Chernobyl nuclear plant is located. On the day of the  disaster, April 26 1986, I was less than 2-years-old and my mother took me to the park, unaware of the high radiation. Even those who were warned about the accident, did not know about the effects of radiation on human and environmental health. 50 million curies - that was the total yield of radioactive materials. But a person without a special education cannot understand this terminology. It is simpler to say, Chernobyl nuclear tragedy is comparable to the explosion of 500 atomic bombs.
When I got older, I saw the suffering of my relatives and friends after the Chernobyl disaster and decided that when I grow up, I will do something to make this world better, and people - healthier and happier.
I am a third-generation lawyer, and as my parents wanted, I went to study at the Law Faculty of the Belarusian State University. I became passionate about the environmental law due to its interdisciplinary nature and global impact. So, remembering what I dreamed about as a child, I decided to conduct a research on legal regulations of environmental safety of nuclear energy. This was the beginning of my environmental path.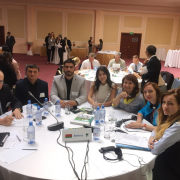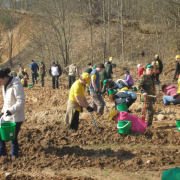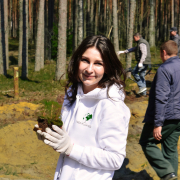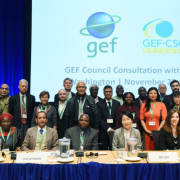 This year marks 10 years of me leading the NGO "Belarusian Environmental Movement" as its General Manager. My NGO has allowed me to unite international, state, public organizations and the  private sector in solving environmental problems. This role helped me learn about global environmental issues and search for effective solutions. One such solution was to design innovative projects in the field of climate change, land degradation and waste management with impact that goes beyond project completion. But I felt there is much more that can be done. That is why I decided to start an online platform for planting trees globally in areas affected by environmental disasters such as Chernobyl disaster, fires, storms, epidemics, etc. that will create synergies and bring scale, allowing millions of people to participate in climate mitigation with one click. A recent study in the magazine, Science estimates that restoring forests all over the world could capture 205 billion tons of carbon – or 2/3 of what humans have added to the atmosphere since the industrial revolution. 
This led me to the Beahrs ELP program, which expands my horizons in terms of knowledge and skills to implement these ideas with greater impact. I am grateful for the opportunity to learn and to connect with so many talented individuals fighting for the better and healthier planet.  And I would like to thank for the kindness and support to Vera and John Pardee, invaluable help of Mio Owens and my friends Olha Krushelnytska and Ming Yang from the Global Environment Facility. Many thanks to the whole Beahrs ELP team and my new incredible friends I made here. Оnly two weeks have passed, but I feel that together we can make a great contribution to the ELP global mission. And to prove, that we can rebound and prosper together even after such a disaster as Chernobyl to make the world a better place.