Sokrith Heng (ELP 2019) | Senior Tonle Sap Program & Science Manager, Conservation International, Cambodia
My life was first associated with forests in that I was born after the civil war ended in 1979, when 73% of Cambodia's was completely covered in forest. I remembered that when I graduated, I was accepted to two colleges of economics and forestry. I did not understand what the economy was, but I decided to enroll in the economy at that time. On the first day I attended, my father called me back into the University of Forestry Science. After five years of study, I have spent my life as an environmental conservationist for more than 14 years with Conservation International. Sometimes my mother asks me, "Why, you were born in a city, but you are working in the jungle with animals? Are you not afraid?" I really do not understand myself, it is probably my fate; but when it does, I really feel happy with this job. It's not just a salary, but I feel that I've been involved in the environment and natural resources protection to my country, especially in promoting my community's livelihood.

Where I am working there is a beautiful lake; its huge production of freshwater fish yields 500,000 tons each year, worth an estimated $2 billion annually. It is a big heart and fully fresh water in Cambodia, and it is home to crucial wildlife, rare and endangered species. It has been taking care of Cambodia's people, including offering goods and services. It provides us without charge, and it is called "Tonle Sap Great Lake."

On the other hand, this great lake now is suffering from unregulated fishing owing to overfishing, habitat destruction, climate change, and inappropriate infrastructure development. All this consequently has impacts on community livelihood, ecosystems, and in particular to the people who rely on them for their immediate needs. The flooded forests are under similar pressure, as families collect the timber for house construction and firewood. It is estimated that 95% of the flooded forests have already been damaged.

Since 2010, in regard to my role with Conservation International (CI), I initiated the project to build resilience of the fishing community to help local community members, particularly women, to improve their livelihoods by developing and managing sustainable fish catch and habitat restoration. This effort has a great impact through recovering fish stock, diversifying and raising community incomes, and restoring both flooded forest and wildlife.
CONSERVATION AND RESTORATION

We have collaborated with Fisheries Administration to protect two fish conservation areas, which area called Kompong Prak and Koh Kaeak, and adjoint the flooded forest about 25,000 hectares, which is not fish stock increasing, but it is the habitat of at least 21 globally threatened species. Moreover, the reports show that the illegal demonstration rate has declined between 2010 to 2016 by half in target areas. With our partnership with the fisheries administration, we replanted trees in 160 hectares of flooded forest with 99,741 seedlings grown from community-owned and managed nurseries. Obviously, minimum catch has increased from 6kg to 14kg. This represents the catches of the poorest fishers, providing essential sustenance and income for families in our target villages. We have seen an increased annual income of 16 percent per fish processing household.
PROVIDING WOMEN ENTREPRENEURS WITH ACCESS TO AFFORDABLE CREDIT

A critical part of women's economic empowerment is not only helping women to earn more money, but to control it. We have been working with 249 women in our target villages to form nine women-only "Savings Groups." These are small collectives which focus on pooling savings and providing the opportunity for members to take out small loans. Loans may be taken out to start or support small business ventures, including investments in fish processing, or to serve immediate family needs such as medical emergencies. The loans are provided at a much lower interest rate than from commercial institutions, lowering the likelihood of women and their families becoming trapped in debt. The Savings Groups not only teach the women about financial management, but are important social gatherings, and our staff have observed a step change in women's confidence levels through their participation. The percentage of families ranked as "very poor" in our target areas decreased from 68 percent to 34 percent between 2011 and 2016.
FISHERIES MANAGEMENT

To improve small-scale fisheries management, we have enhancement to improve 11 community fisheries on their management and to establish the sustainable finance mechanisms to cover core costs for three community fishery committees (CFCs) that are continuing to deliver well on their management plans and attract broader community involvement in CFC activities. We have fostered vastly improved relationships between the fisheries administration and the CFCs, that are working together, to solve fisheries problems in their community domain.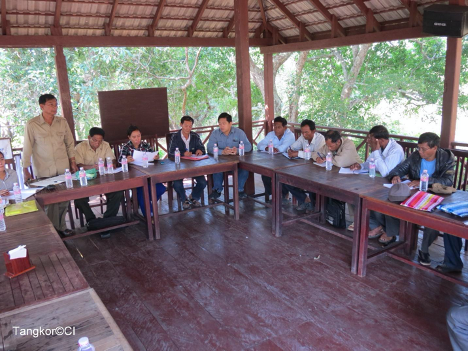 We are proud that this has been a successful outcome, and we also want to put in place a strategy for implementing the next goal of expanding the scope to six additional communities.