Use in "featured" displays?:
Biography:
Sarah Eminhizer is a California native. She is passionate about working with key actors to find innovative solutions to today's biggest social and environmental problems and improve organizational effectiveness to enhance performance. As part of the UC Santa Cruz Coastal Science & Policy program, she has helped launch a new innovative course "Hacking4Oceans," facilitated the 2019 Climate Conference focused on Climate Justice, launched the CSP seminar series, and enhanced programing for students, faculty, and partners.
Sarah brings a breadth of experience from over 15 years working in a range of sectors including as an Associate Program Director for a nonprofit addressing coral reef adaptation potential as well as overseeing their Fiji and Indonesia conservation programs, a Director for Blue Earth Consultants (a management consulting firm focused on white water to blue water issues and innovations), and as an Environmental Planner in American Samoa. Sarah is a Board member of Wild Gift, a non-profit that connects and empowers environmental entrepreneurs through immersive wilderness experiences. Her expertise lies in organizational and management effectiveness; strategic planning; sustainable financing; and monitoring, evaluation, and learning. She holds a Master of Environmental Management from Duke University and a Bachelor of Science in Aquatic Biology from UC Santa Barbara.

Photo: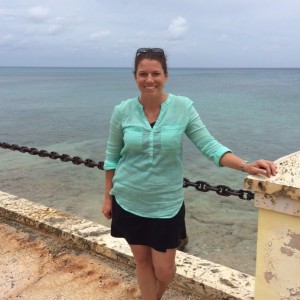 Primary title | Affiliation:
Assistant Director, Coastal Science & Policy Program
(DEPRECATED) Program | Role: