by Dannick Randriamanantena (ELP 2018) | Landscape Manager, WWF Madagascar Country Office

Six months after the 2018 Beahrs ELP, I returned to the USA with a quite different sight from what I could experience in July during the summer. I landed at Dulles International Airport (VA) in the snowstorm of January with a temperature of -5 °C and a white, icy, and somewhat melancholy landscape, during which finding a taxi to get to downtown D.C. seemed an impossible mission. However, I came with a lot of enthusiasm and energy and reminded myself that I am here to represent my organization, my country, my region, and my continent. I came to participate in the second workshop of the Global Mangroves Alliance (GMA). What is the GMA exactly? Good question! The Global Mangroves Alliance is the chief custodian of the Mangrove Knowledge Hub. The alliance brings together technical experts, civil society organizations, governments, local communities, businesses, funding agencies, and foundations to accelerate a comprehensive, coordinated, and global approach to mangrove conservation and restoration at a scale that matters. The target of the Alliance is to increase the global area of mangrove habitat by 20% over its current extent by the year 2030. This target underpins and helps deliver objectives, including climate adaptation, climate mitigation, biodiversity sustainability, and the improvement of human wellbeing. The second Global Mangrove Alliance workshop in Washington, D.C. brought together more than 80 global mangrove experts from 15 partner organizations to create a road map for opportunities and strategies for the conservation and sustainable management of mangroves worldwide. The workshop gave our global and regional members the opportunity to convene, refine the Alliance's vision and work plan, and assess progress towards our target of increasing mangrove extent worldwide by 20% by 2030.

I was proud to participate to this workshop, which allowed me to meet and exchange ideas with exceptional people. The meeting is a great opportunity to share and discuss specific issues with a large number of experts working in all aspects of mangroves I am not necessarily familiar with. IUCN, WWF, Wetlands International, Conservation International, and The Nature Conservancy, as well as Scripps Institute of Oceanography, NASA, Wildlife Conservation Society, Restore America's Estuaries, the Mangrove Action project, Audubon Society, Rare, Cinestav, and Pew Charitable Trusts were all represented for a week of discussion and collaboration on the Alliance targets, forging partnerships, identifying common goals and strategies, and highlighting opportunities for synergies and collaboration in specific regions and geographies.

This trip to the USA allowed me to meet unexpectedly with Mr. Peter Gayflor Mulbah (ELP 2009). Peter works for Conservation International in Liberia as Deputy Country Director, and the workshop was an opportunity for both of us to talk to each other and share our experiences during and after the ELP. I realized that ELP alumni can be everywhere when it comes to the field of environment and sustainable development.  Thanks for the meeting and sharing Peter!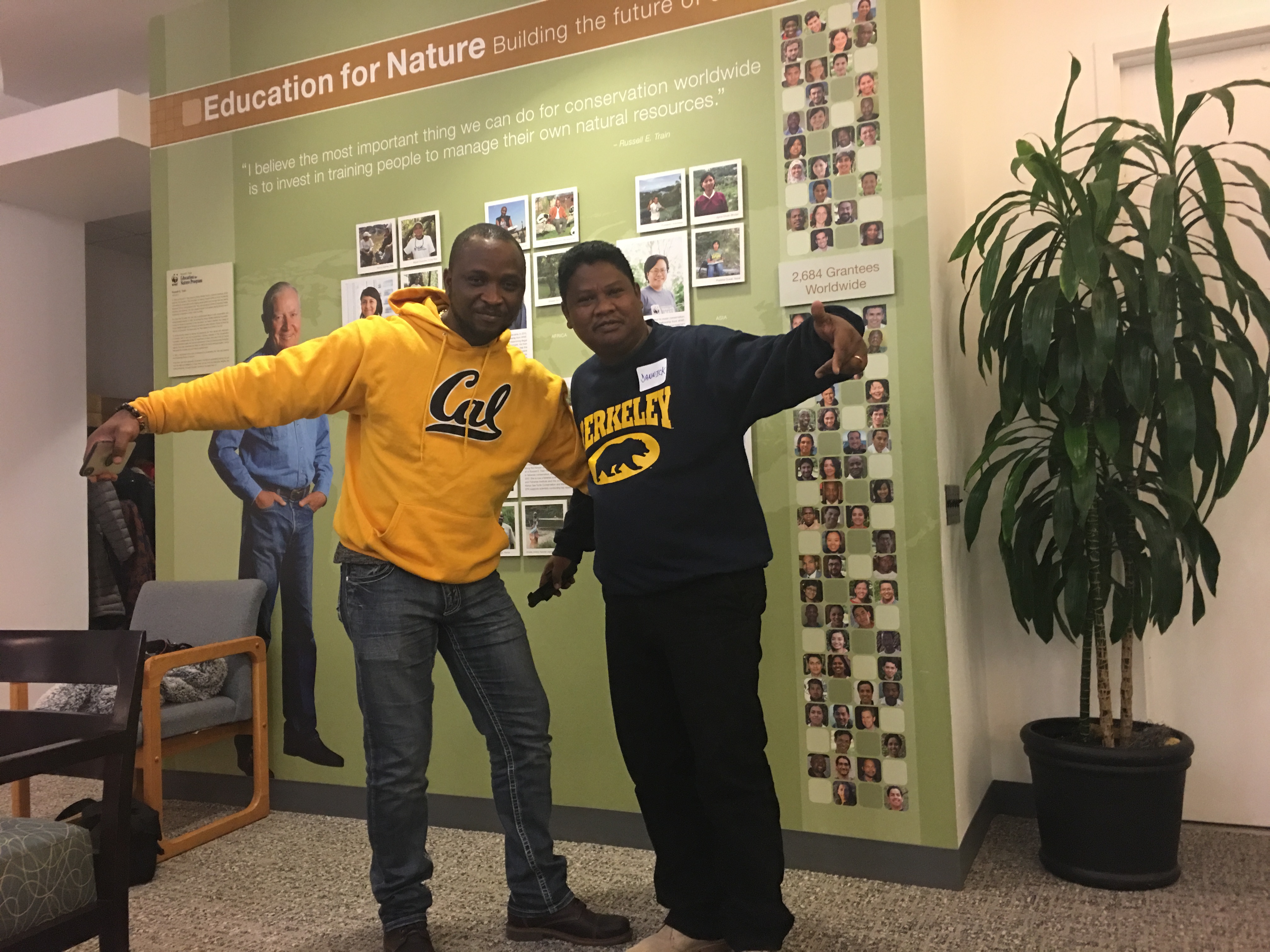 Peter Mulbah (ELP 2009) and Dannick Randriamanantena (ELP 2018) at the Global Mangroves Alliance in January 2019