by Mio Katayama Owens, Assistant Dean, International and Executive Programs Rausser College of Natural Resource
2020 will come to an end in less than three months. This year has been challenging us in ways I didn't anticipate—from pandemic to global instability, just to name a few. Some days, I find myself so rattled by the relentless waves of terrible news, recreating a daily routine itself takes effort. However, in the midst of chaos, there is some great news. Two UC Berkeley faculty members were awarded the Nobel Prize last week. One of them, Professor Jennifer Doudna, is honored for co-discovering CRISPR-Cas9. Having a woman scientist be recognized for her trailblazing effort that will change the world is particularly exciting, and I'm grateful for how UC Berkeley gets to play a small part in fostering women scientists.
More specific to the Beahrs ELP, there are also several updates. One of them is that we launched the new website this fall. Thanks to the contributions of our alumni, we were able to capture some of their stories in the alumni section as well as in the blog section. The website will have an additional element featuring the 20th year celebration in the coming weeks, so stay tuned.
Speaking of the 20th anniversary, we originally had an ambitious plan to celebrate the special occasion by visiting our alumni in several regions across the globe. Our hope was to have regional celebrations capturing everyone's accomplishments. However, the ongoing pandemic is making us more creative. We are getting wonderful ideas from the alumni on how to celebrate and I'm looking forward to working with our faculty directors and the Pardee Chair, together with the advisory board members, to develop a plan.
In September, as part of the anniversary activities, we launched our bi-monthly webinar series. The overarching theme of the webinar, New Ways of Doing Environmental Work, was developed jointly with the 2019 cohort. The inaugural webinar in September was on how the pandemic is affecting our ability to meet the Paris Agreement.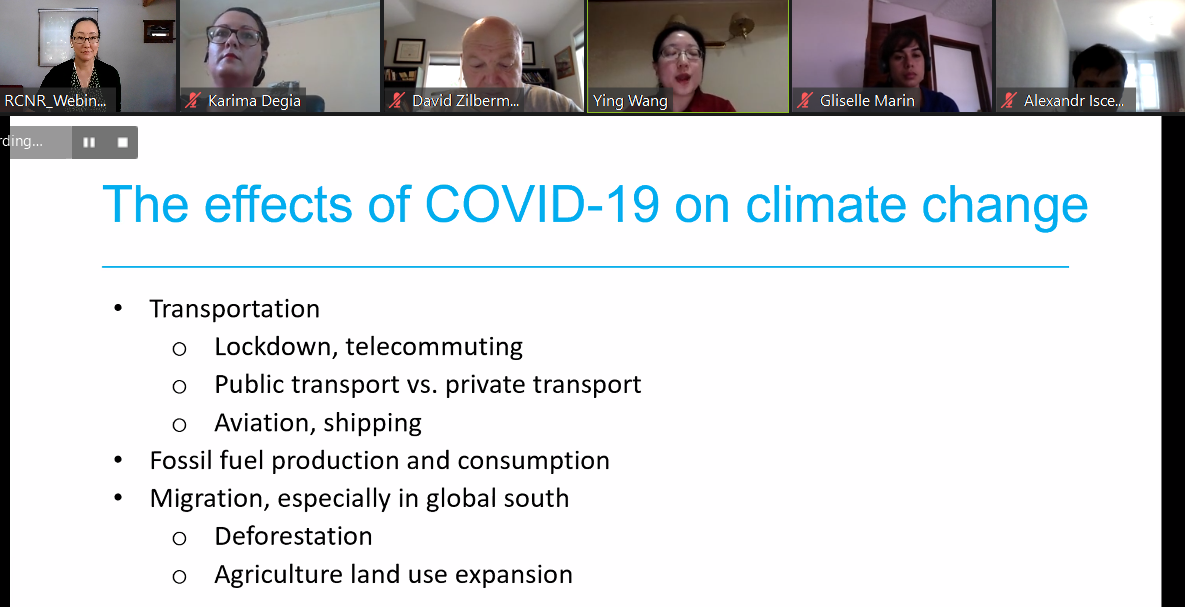 Thanks to the 2019 cohort for their leadership and support, it was a successful event. From the planning to the day of the event, having opportunities to virtually interact with our alumni was such a treat for me. The November webinar will feature Professor Max Auffhammer, George Pardee Jr. Professor of International Sustainable Development; Max will discuss the impact of the US election on the global environment. More details are forthcoming.
The US election is less than three weeks away and I'm beginning the mental countdown of some sort. Being in California, especially in the Bay Area, affords me a sense of sanity and semblance to the progress we are making to protect the environment, but who will reside in the White House for the next four years will have tremendous impacts on our lives. I'm hoping that I will be celebrating a cautious victory next month with you.