by Nhung Pham (ELP 2016), Sustainable Energy Project Manager, WWF, Vietnam
When WWF scientists first entered Vietnam in the early 1980s, it was the start of a new age of discovery: the saola (Pseudoryx nghetinhensis), the giant muntjac (Muntiacus vuquangensis) and the Truong Son muntjac (Muntiacus truongsonensis) represented the first large mammal discoveries, anywhere in the world, since the 1930s. WWF's task, in the beginning, was primarily one of species identification and protection. There were many successes: between 1997 and 2007 alone, scientists from all over the world, many supported by WWF, documented more than 1,000 species of flora and fauna that were new to science.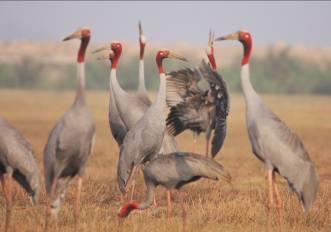 However, the Vietnam of the 1980s is a very different one from the Vietnam of today, and will be almost unrecognizable from the Vietnam of 2020 and beyond. Today, Vietnam is one of the world's fastest growing economies with average rate of 6.5% (World Bank, 2000-2014). The growth lifted millions out of poverty, but it relied heavily on natural resources, which has generated new development challenges, including environmental degradation, biodiversity loss and rising income inequality. 
If WWF is to carry out its mission: to stop the degradation of the natural environment and to build a future in which humans live in harmony with nature; we need to change the way we're working.
...so WWF-Vietnam must change how it works...
Below we outline what we'll be doing differently from 2015.
Engaging government, businesses, civil society, and individuals
In a country of 90 million people, we recognize we can't go it alone. We need to engage government, businesses, civil society and individuals more than ever before.
We'll be supporting the Government in its sustainable land use planning and in its policy development on wildlife trade,
We'll be working with companies to adopt sustainable production techniques of the key commodities that pose the greatest risk to wildlife,
We'll be developing the capacity of community organizations to protect natural resources and civil society to speak with one voice on environmental policy,
We'll be driving the increase in demand amongst individuals for sustainably produced foodstuffs – both from the domestic market and internationally.
​Harnessing more economic resources and greater capacity within the country
Vietnam became a middle income country in 2013. There are more economic resources and greater capacity within the country than ever before.
We'll be working with both internal and external funders, to ensure money being invested in Vietnam is no longer spent on projects that harm the countries' natural capital,
We'll be engaging with Vietnamese businesses to seek their support in fundraising and awareness raising,
We'll begin recruiting individual and major donors in country: Vietnamese people who are motivated to protect their own natural resources.
​Developing working ties with out transboundary neighbors
We'll be developing closer working ties with our trans-boundary neighbors. We recognize that our priority landscapes are inextricably linked with our Mekong neighbors:
We'll be focusing on trans-boundary work with Cambodia and Laos PDR, as the Central Annamites, the mountain range that divides the countries, and the York Don Eastern Plains, are home to some of the region's and the world's most endangered species,
We'll be driving dialogue between countries' governments on the sustainable use of the Mekong's resource, in terms of water and energy.